KEY FEATURES
Suitable for 2 Adults and 3 Children - This inflatable swimming pool is spacious, a great deluxe item for 2 adults and 3 children to enjoy. Ideal for use in backyard patios lawn gardens, etc.
Safe & Quality Material Offers Excellent Stability - Super-tough laminated PVC sidewalls maintain the shape of the pool without easy deformation or collapse.
Improve Water Circulation - New dual suction outlet fittings improve water circulation resulting in better water hygiene and clarity.
Easy to Install in 10 Minutes - Simply spread out on the level ground, inflate the top ring, fill the pool with water, and enjoy the fun!
Endless Fun & Multifunctional - Our swimming pools are a great choice for summer, family pool parties, outdoor carnival, playground, backyard, and garden, It allows you and your kids to enjoy the summer. The pool is also great for fish farming, sand toy use, dog pool, and aquatic plant raising, super useful.
Portable & Easy to Store - Folding into a compact size after draining. It's easy to carry and store away when not in use or for traveling.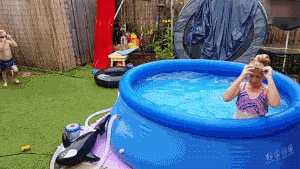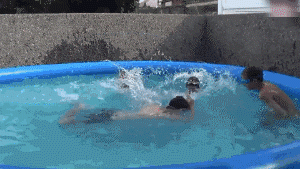 SPECIFICATION
Item Type: Inflatable Pool
Material: PVC Clip Net
Color: Blue
Dimensions x Height: 8' x 25"
Package Size: 10" x 9" x 11"
Gross Weight: 12 lbs
Recommended Capacity: 2 Adults+3 Children
Setup Time: 10 minutes
Note:
The swimming pool does not include an air pump.
Due to light problems, the color of the product may have a certain color difference, but the quality is no problem.
DESCRIPTION
Enjoy hours of refreshingly fun family activity in these above-ground swimming pools with a super-easy setup (no tools needed). Just fill the upper ring with air and then fill the pool with water. This swimming pool is ready for water in 10 minutes! Convenient drain plug that connects to a garden hose so water can be drained away from the pool or house area. Prompt Set above-ground swimming pools are great for both adults and kids and much easier to disassemble than any rigid steel-walled pool, too! Whether you need a little extra cooling off on a hot summer day or a way for your kids to enjoy a swimming pool in the comfort of your own backyard, the Kangaroohoppers swimming pool is a great option for both